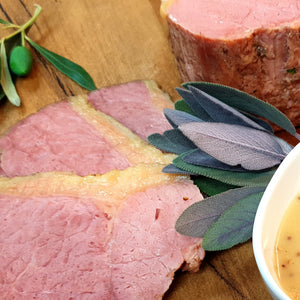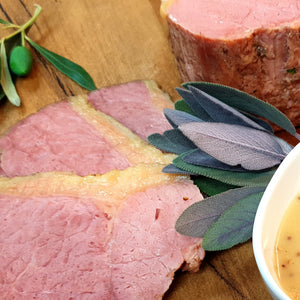 Whisky and Orange Corned Beef with Mustard Sauce
1 piece corned beef (corned silverside) 1.5-2kg
2 Cup water (or enough to cover)
2 Tbls Butter
2 TblsFlour
½ Cup Milk
½ - 3/4 Cup Cooking Liquid (What the corned beef was cooked in)
Place the corned beef into the slow cooker container, fat side up
Add the water. The water should almost cover the corned beef but not quite.
Shake the Whiskey and Orange Ham glaze well and pour over the corned beef.
Cook on low for 8 hours.
In a small saucepan over a low heat stir the butter and flour together until well combined
Add the mustard and stir.
Slowly add the milk/cooking liquid a little at a time while stirring. Bringing the sauce back to the simmer between each addition of liquid.
Serve the sauce over the sliced corn beef.
Condimentum Whiskey and Orange Ham glaze; not just for ham. But the label was too small to put everything you can use it for on there so that's what we stuck with.
If you find corned beef too salty you can always soak it in water overnight then discard the water and start from there.
This reminds me of probably the best pie I ever had close to 30 years ago now, it was corned beef with mustard sauce in a pie. Must have been good if I can remember it that long ago.
Recipe created by our very own Gavin Versey