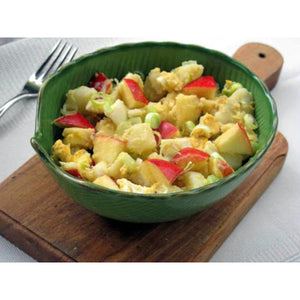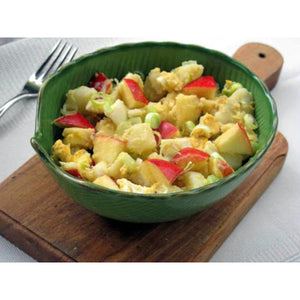 Wasabi, Potato & Apple Salad
This recipe created by Lyn Potter & published on the Breeze Website. Wasabi, Potato & Apple Salad
This potato and apple salad is great for a barbecue. It was inspired by a traditional Dutch recipe which is flavoured with a mustardy mayonnaise. I substituted Telegraph Hill Wasabi Vinaigrette which is locally produced. The wasabi in this dressing gives it an appealing Asian twist and a slightly peppery finish. We like it best while still warm, but it can also be stored in the fridge for a day or so.
Ingredients
500 gm of potatoes

3 hardboiled eggs 

3 medium size red skinned crisp sweet apples 

1 spring onion (white part only) 

3-4 tablespoons of Telegraph Hill 

Wasabi Vinaigrette

The juice of up to half a lemon

A pinch of salt
Method
Boil the peeled potatoes until they are tender. When cool enough to handle cut them into chunks.

Wash the apples and dice.

Peel and chop the hardboiled eggs.

Slice the white part of the spring onion finely.

Mix all of these gently together in a salad bowl.

Stir the Wasabi Vinaigrette in. Sharpen the flavour with a tablespoon of lemon juice. Keep tasting and adding up to the juice of half the lemon depending on how sweet/tart the apples are. Season to taste with salt.
Recipe and photograph by Lyn Potter. Read more from Lyn at http://focussedonfood.blogspot.co.nz/
- See more at: http://www.thebreeze.co.nz/Potato-Apple-Wasabi-Salad/tabid/1131/articleID/7262/Default.aspx#sthash.HKzpXJFh.dpuf