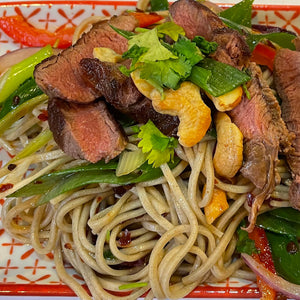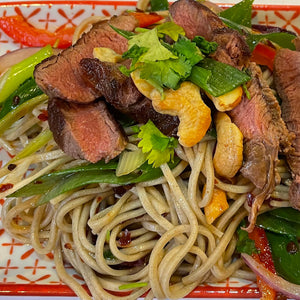 270g packet soba noodles
100ml Telegraph Hill Hot Honey Drizzle
Juice of 2 limes
50g nuts (peanuts or cashews)
½ Red onion
2 spring onion
½ red capsicum
2 tablespoons chopped coriander
200g beef or venison steak
Cook the soba noodles according to the directions on the packet and cool under running water or in iced water
Combine the lime juice and Telegraph Hill Hot Honey drizzle and set aside
Slice the red onion, spring onion and red capsicum and combine in a large bowl
Lightly toast the nuts in a frying pan and set aside to cool
In the same pan heat 1 tablespoon of Hill Olive oil and cook you beef or venison steak to your liking. Place aside to rest while you finish the salad
Drain the noodles and combine with the dressing, the vegetables and half the nuts and half the coriander.
Slice the steak and arrange over the salad with the remaining nuts and coriander.
Thai beef salad, a staple on many a restaurant menu in the early 2000's, was probably as close to being authentic Thai food as the Chinese food available from your local Chinese buffet restaurant of the same time period. A good quick salad none the less and is just as good for lunch or dinner or as a side salad if you minus the steak. The dressing can be the hardest part of all to make but this two ingredient dressing makes it a breeze.