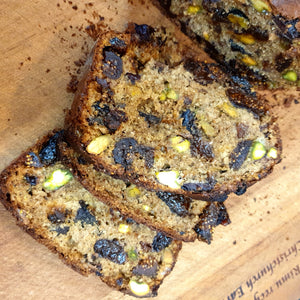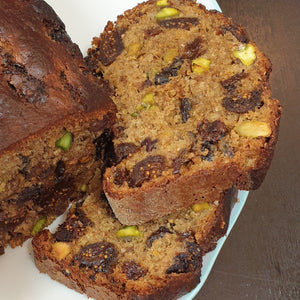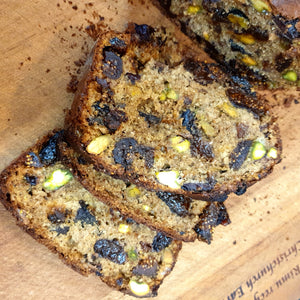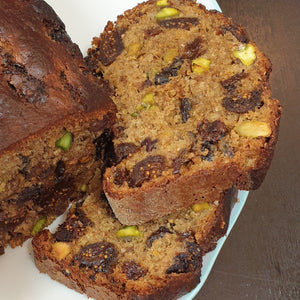 Fruit cake seems to have a bit of a bad reputation these days. Maybe deservedly so, I remember my mum making fruit cake when I was a kid that involved soak fruit in a cup of tea, which put me off both fruit cake and tea for many years. I also remember fruit cake being made for Christmas that was soaked in so much alcohol you could smell it coming before you could see it.
This recipe is more similar to Panettone than an English fruit cake but a lot less work. Excellent straight out of the oven or toasted a few days later.
Preheat oven to 180°.
Drain the Telegraph Hill Drunken Prunes keeping the liquid.
In a medium sauce pan bring the liquid up to the boil (careful it doesn't overflow) Remove from the heat and add the raisins.
In a large bowl combine the flours, salt, cloves, baking powder and baking soda.
In a separate bowl whisk the eggs for 3 minutes, add the butter milk, honey, vanilla and Telegraph Hill extra-virgin olive oil. Whisk until combined
Add the add mixture to the flour mixture and fold together until combined
Fold in the figs, olives, prunes and raisins (including liquid)
Oil and dust with flour a loaf tin (also works in muffin tins but cooking times will vary)
Pour the mixture into the loaf tin and bake for 40-45min or until a skewer comes out clean.
Recipe by our very own Gavin Versey