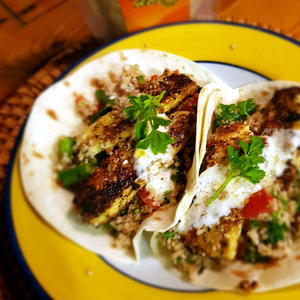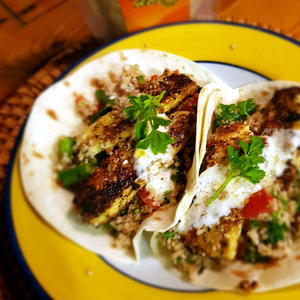 Telegraph Hill Hemp Dukkah Crusted Halloumi with Bulghur Wheat Tabbouleh
Telegraph Hill Hemp Dukkah Crusted Halloumi with Bulghur Wheat Tabbouleh
Vegetarian
This wonderful recipe came from https://www.onyourplate.co.nz a Hawke's Bay Food box service, where the ingredients are sourced locally. And more importantly they have used some of our products!  

Prep Time 20 minutes Cook Time 15 minutes
For 2          For 4
1                    2          Halloumi
25g               50g       Telegraph Hill Hemp Seed Dukkah
1Tbps           2Tbps   Extra virgin olive oil
                                  Salt and pepper
                                  Chilli Flakes - optional
The Salad
3/4c              1 1/2c   Bulghur Wheat
3/4c              1 1/2c   Boiling water
                                  salt and pepper
0.5               1            Lemon Zest and Juice
20g               40g       Curly Parsley
4                   8           Tomatoes
150g            300g      Green Beans
1                  2            Garlic Cloves
                                  Wraps or Pita Pockets
                                  Yoghurt, Mayo or Sour Cream

1. The halloumi… Take the cheese out of the packaging and pat dry with a paper towel. Slice into 1cm strips. Lightly coat with olive oil, season with salt, pepper,  chilli flakes (if using) and coat well with the dukkah.
2.The tabbouleh… Add the bulghur wheat, zest of the lemon and a pinch of salt and pepper to a bowl. Pour over the boiling water and cover tightly. Set aside to cook for 10 minutes.
3. Heat up a frying pan to a high heat. Chop the beans into 1-2cm lengths. Quickly fry with a little olive with the sliced garlic until the beans have char marks, but still crunchy, set aside. 
4.Chop up the tomatoes and finely chop the parsley.
5. When the bulghur wheat is tender, fluff up with a fork then mix through the beans, tomatoes and parsley. Dress the salad with a drizzle of extra virgin olive oil and a squeeze of lemon.
6.The halloumi: Heat the frying pan up again to a high heat with 2-3T of olive oil.  Fry the halloumi for a minute on each side until crispy and golden.
7.To finish: Serve the beautiful halloumi in wraps, pita pockets or on its own with a big spoonful of tabbouleh and a dollop of yoghurt or sour cream.
8.  Serve, Eat, Enjoy!