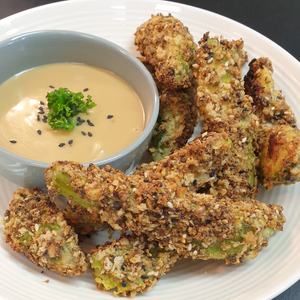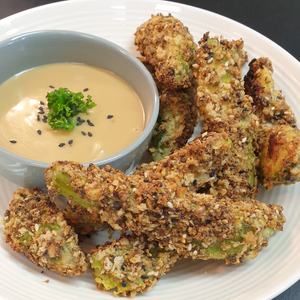 Telegraph Hill Dukkah Coated Avocado Fries
INGREDIENTS
4 tbsp. Telegraph Hill Extra virgin olive oil, divided
1 cup, your choice of Telegraph Hill Dukkah (Roasted, Hempseed or Olive Dukkah)
1 cup panko breadcrumbs
1 1/2 tsp. chili powder
Salt and freshly ground black pepper
2/3 cup buttermilk
1 large egg
2/3 cup all-purpose flour
3 firm but ripe avocados, each cut into 8 wedges
TH Wasabi Vinaigrette
 DIRECTIONS
Preheat oven to 210 degrees C. Brush a large rimmed baking sheet with 1 tablespoon oil.
Mix Dukkah, breadcrumbs, chili powder, and remaining 3 tablespoons oil in a shallow bowl until combined. Season with salt and pepper.
Whisk together buttermilk and egg in a separate bowl.
Place flour in a third bowl.
Season avocado with salt and pepper. Working with one wedge at a time, toss in flour, then in buttermilk mixture (letting any excess drip off), and then in breadcrumb mixture, pressing gently to help adhere. Place, rounded side down, on prepared baking sheet.
Bake until golden brown, 28 to 32 minutes. Season with salt and pepper.
Drizzle or dip Avocado Fries in Telegraph Hill Wasabi Vinaigrette