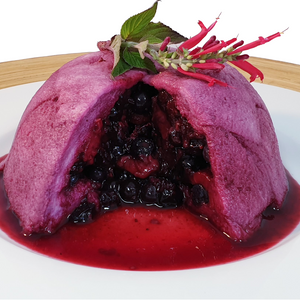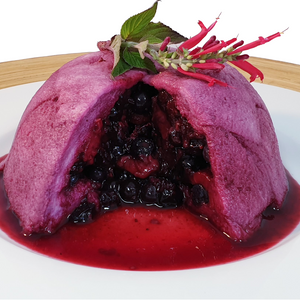 Ingredients 
1100g fresh mixed berries (strawberries, blackberries, red currents, black currents, raspberries and boysenberries and my usual combination raided from the garden if I can beat the birds to them)
100ml Telegraph Hill Cabernet Drizzle
10 Slices slightly stale white bread.
Method
Place the Telegraph Hill Cabernet drizzle in a large shallow saucepan or frying pan and warm to just below boiling.
Add the berries stir gently for 2-3 minutes. The fruit should be largely still whole. (I leave the strawberries out of this step and add them in afterwards, I'm not a fan of cooked strawberry's taste but I suspect that's just my personal preference.)
Sieve the berry/ Cabernet drizzle mixture and keep the juice and the berries
Line 1-1 ½ litre bowl with glad wrap, leave plenty hanging over the sides.
Cut the crusts of the bread. Leave 3 whole, cut 6 in half on a slight angle to give you pieces that look like triangles that are missing their point and leave the last one to patch any holes that you end with
Dip the whole piece of bread in the juice for a couple of seconds so it's just coated, to long and it will be too hard to work with.
Place this at the bottom of the lined bowl in the middle
Next coat one of the tip-less triangles in the juice and place the widest part slightly over lapping the first piece of bread.
Repeat with the rest of the bread alternating the way up you place the triangles in, wide part at the bottom of the bowl, narrow part at the bottom etc (think building a berry igloo upside down)
Trim of any excess as you go and keep this along with the remaining 2 whole slices of bread to cover the top (which will end up being the bottom) of the pudding.
Spoon the berries into the bread lined bowl then cover the bottom with the remaining bread.
Fold the excess glad wrap over the top, if you need to add an extra piece and place a plate on top that just fits inside the bowl.
Place a weight on top, place on a tray in the fridge overnight.
Pour off the excess juice, remove the plate, peel away the glad wrap and turn out onto a serving plate with the help of the glad wrap.
Easy to make ahead of time if you have company coming and looks super impressive. Makes great use of the abundance of berries available during summer. Works well (or even better) with slightly over ripe "seconds" you can often find in the local fruit shops.