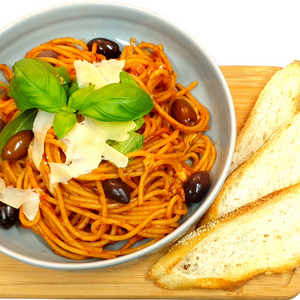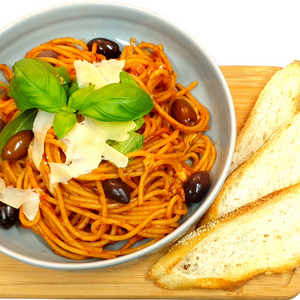 Boil the jug.
Put all the ingredients except the cheese and basil into deep frying pan and season well.
Pour over 800ml kettle-hot water and bring to a simmer, using your tongs to ease the spaghetti under the liquid as it starts to soften. (While this may seem odd the starch from the pasta helps to thicken the sauce and makes it super rich
Simmer, uncovered, for 12 minutes
Add a splash more hot water if the sauce is too thick or does not cover the pasta while it cooks.
Stir through the pecorino and basil,
Serve with Telegraph Hill Olive oil, extra cheese and Telegraph Hill Olive Tapenade.
I have this written down in one of the hundreds of small note books I carried and filled during my years as a chef as "Staff" Spaghetti. That's because the aim of staff food was to be fast, filling, "fairly" cheap and use "few" dishes. Or words to that effect. Cooked in one large frying pan or sauce pan and with only a few ingredients this fits the bill and was a firm staff favourite.
Nduja paste is amazing stuff and can be found at most Mediterranean food shops. Think spreadable salami. 
Recipe created by our very own Gavin Versey