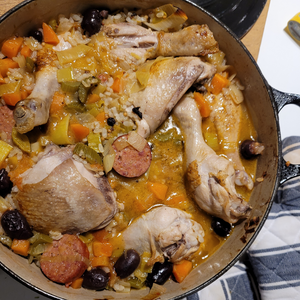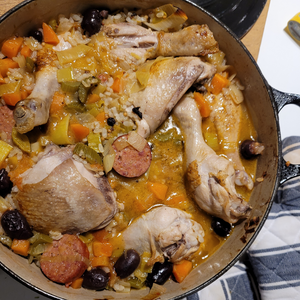 Spanish Chicken (Or Duck or Turkey or pretty much any other poultry)
This could be called duck à l'orange I suppose, which can be loosely applied any roast duck with orange. I hesitate to call it that though because in New Zealand especially it was a dish that was cooked so badly that it bore almost no resemblance to the classic dish that it was supposed to be except its name. Kind of like my mums smoked fish kedgeree, but that's long story…..
2 Chicken legs or 4 duck legs
Telegraph Hill Roast Garlic Oil
2 Cups finely diced vegetables (onion, carrot, leek, celery)
100g chorizo, peeled and diced
3 tomatoes, roughly chopped
1 bay leaf
A pinch of cayenne pepper
150g short grain white rice
125ml sherry
2 tbsp Condimentum marmalustard
30g black olives (Burnt orange and Fennel are the best)
500ml hot chicken or duck stock


Season your poultry with salt and pepper. Put an oven proof casserole dish or pan that you can find a lid for on a medium heat and warm 50ml of Telegraph Hill roast garlic oil. Fry the poultry until golden brown on both sides. Remove and keep to one side.
Add the vegetables to the pan and reduce to a low heat.
Cook for 10 minutes until soft.
Add the chorizo and cook for 3 minutes.
Add tomatoes, bay leaf and cayenne.
Cook for a further 2 minutes
Add the rice and stir gently.
Add the sherry and cook until mostly absorbed.
Gently stir in the marmalustard and olives. (Add the oil from the olive packet too)
Pour in the hot stock and bring to a simmer.
Nestle the poultry into the rice, skin side up. Cover and bake in the oven at 180 until everything is cooked which should take about 40 minutes.