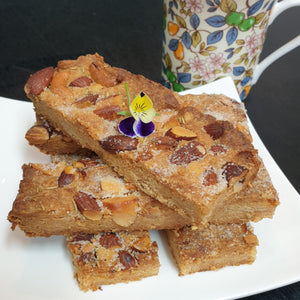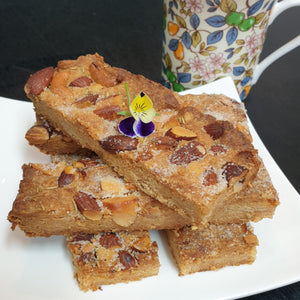 Heat the oven to 160 degrees.
In a medium pot combine butter, rosemary sprig and Turmeric and Black Pepper Drizzle. Cook over medium until the butter is melted
In a medium bowl combine the flour, sugar and Hot Honey Drizzle.
Remove and discard the rosemary sprig from the butter. Pour the melted butter into the dry ingredients. Stir with a fork to combine then knead /mix into a dough.
Press the dough evenly into a slice tin. Prick all over with a fork.
Sprinkle the chopped/crushed nuts and rosemary leaves on top,
Shake into a single layer, then press firmly into the dough until the nuts' sides are surrounded by dough.
Sprinkle with 1 tablespoon white sugar.

Bake until golden brown and the edges start to pull away from the sides 35 to 40 mins

Leave to cool completely then cut or break into snack size pieces.
 A favourite of mine to take on tramping trips. As good with a coffee for morning tea as it is for breakfast or dessert. And it keeps for a week in an air tight container and it doesn't matter too much if it gets broken up into small pieces in your pack.