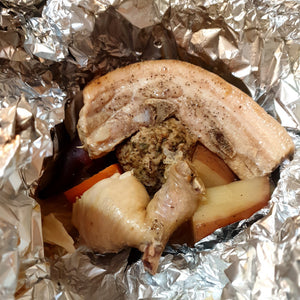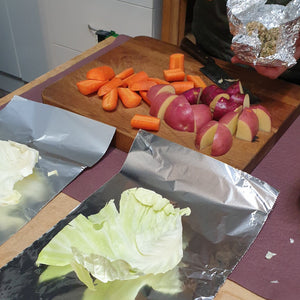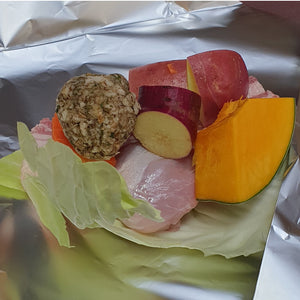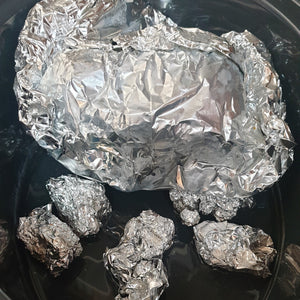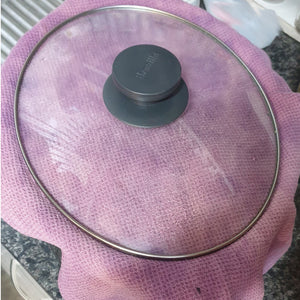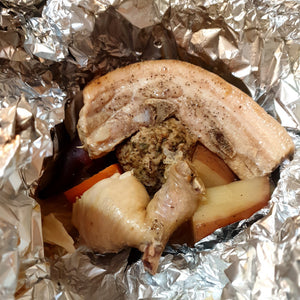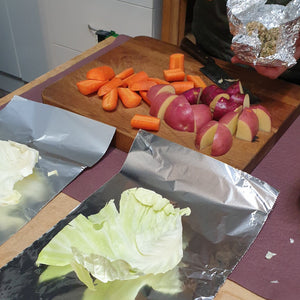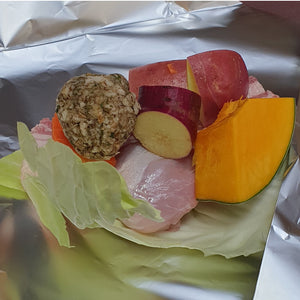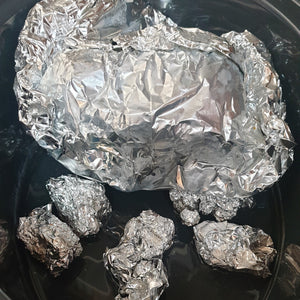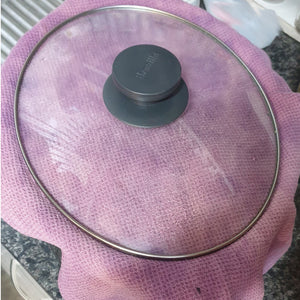 Recipe by Alison Leonard
INGREDIENTS: Per Hāngi Package (slow cooker should hold 2-3 Hāngi packages)
1 chicken drum stick
1 pork strip or chop
1 ball of stuffing
1-2 Potato pieces
1-2 Kumara pieces
1-2 Carrot pieces
1-2 Pumpkin pieces
2-3 Cabbage leaves Salt and pepper Smoked Paprika (optional) Use larger leaves
METHOD:
Place the cabbage leave onto a large sheet of tinfoil. 
Then add the meat, season with salt and pepper and spray with 2-3 squirts of the Manuka smoked concentrate
Add the vegetables and stuffing on top of the meat, season again and spray with another 2-3 squirts of Manuka smoke concentrate
Wrap each parcel securely in the tin foil
Put 6-8 small rolled-up balls of tin foil (or 2 ramekins upside down) in the bottom of the slow cooker and pour in water to just cover the balls ramekins. 
Place foil wrapped packages of meat and vegetable on top of the tin foil balls/ ramekins.  Cover with a damp tea-towel over the slow cooker with the edges hanging down the outside and place lid on top.  Cook for 6-8 hours on high (we found 8 hours worked best and gave an authentic smokey h

ā

ngi smell). Do not lift lid until time is up.
Stuffing for Slow-Cooker Hāngi by Alison Leonard Serves 2-3 Hāngi Packages

INGREDIENTS:
Stuffing 4 Slices Bread
1 x Egg
1 x Onion
1 Tablespoon Mixed Herbs
Salt & Pepper
METHOD: Tear bread into small pieces and place in food-processor to create breadcrumbs Finely chop onion, add remaining ingredients and mix, then mould into small balls.
IDEAS: You could use store-bought stuffing if you want, and you can make stuffing using your hands (don't need a food-processor). A great meal when you don't have a kitchen.
Side Notes:  We tried a couple of different combinations and found having the meat on the bottom worked well and the meat stayed moist.
For the full Video click the link:  https://www.whanauliving.co.nz/posts/slow-cooker-hangi-by-alison-leonard/