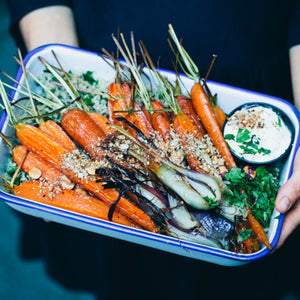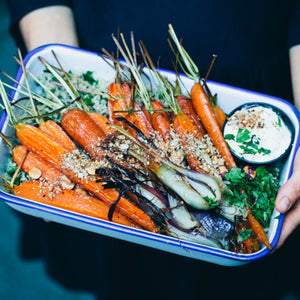 Roasted Carrots with Dukkah, Quinoa & Feta Yogurt Cream
Oven roasted summer carrots & onions
500 g (approx. 8 large) carrots
4 onions, shallots or red onions
2 tbsp Extra Virgin olive oil
1 tbsp Telegraph Hill Turmeric & Black Pepper Drizzle
Sea salt and black pepper
Telegraph Hill Hemp Seed Dukkah

Preheat the oven to 200°C / 400°F. Scrub the carrots under water and trim off the top greens. Cut the carrots lengthwise if they are thick (and keep thin carrots whole). Place on a baking tray. Peel off the outer layer of the onion and trim the top off. Cut into large chunks. Place on the baking tray next to the carrots. Stir together oil, maple, salt and pepper and drizzle over the vegetables, toss to cover. Bake in the oven for 15-20 minutes or until tender.

Herby Quinoa
1 cup / 170 g uncooked quinoa (or 2 1/2 cups pre-cooked)
1 large handful flat leave parsley
A generous drizzle of Extra Virgin olive oil
2 tbsp lemon juice
Sea salt & black pepper

Place rinsed quinoa in a saucepan, add water and salt and bring to a boil. Lower the heat immediately and let simmer for about 10-15 minutes, set aside and let cool. Chop parsley and stir through the quinoa together with olive oil, lemon juice, salt and pepper.

Feta & Yogurt Cream
150 g feta cheese
1 cup / 250 ml plain yogurt
Sea salt & black pepper

Place feta cheese in a mixing bowl and mash with a fork, add yogurt and combine until creamy. Add salt and pepper to taste, set aside.
Assembling:
Spread the quinoa in a serving dish or on a large platter. Arrange the oven roasted carrots and onions on top. Spoon the feta and yogurt cream into a small bowl and place in the dish. Sprinkle the vegetables with a generous amount of Dukkah. Serve.