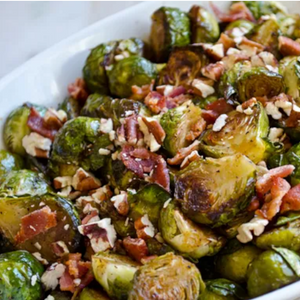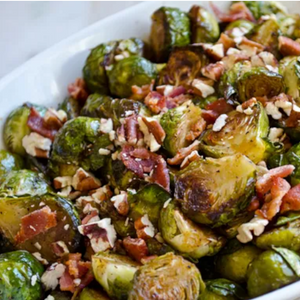 Roasted Brussels Sprouts With Bacon, Pecans, and Turmeric & Black Pepper Drizzle Recipe
These Brussels sprouts are roasted until golden and caramelized, then doused in Turmeric & Black Pepper Drizzle and topped with crisp bacon and toasted pecans. They're so addictive, it's hard not to eat the entire lot standing at the stove before you serve them.
Ingredients
 Adjust oven rack to center position and preheat oven to 176°C, line a baking tray with tin foil.
Place pecans on prepared baking tray and bake until lightly toasted and fragrant, about 5 minutes. Keep a close eye on them, as they can burn fast. Transfer nuts to cutting board and chop coarsely. Set aside.
Increase oven temperature to 200°C. Lay the bacon strips out flat on the same foil-lined baking tray, leaving space in between so they don't overlap. Roast until bacon is crisp, 12 to 20 minutes, rotating half way (cooking time will depend on thickness of bacon). Transfer bacon to a plate lined with paper towels; pour rendered bacon fat into a small dish and discard foil. When bacon is cool, finely chop.
Increase oven temperature to 220°C. Line baking tray with fresh tin foil; Toss Brussels sprouts with rendered bacon fat, olive oil, salt, and pepper, directly on baking sheet. Roast, stirring midway through to promote even browning, until Brussels sprouts are tender and caramelized, about 20 minutes. Add Turmeric & Black Pepper Drizzle and toss to coat evenly. Taste and adjust seasoning then transfer to serving dish. Right before serving, top with chopped pecans (Alternatively use Hemp Seed Dukkah) and bacon. Serve hot or room temperature.
Serves 4-6
Prep & cooking time 45min