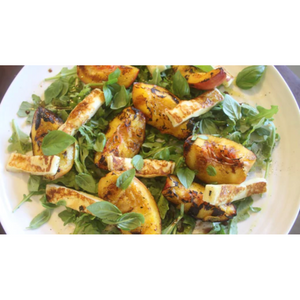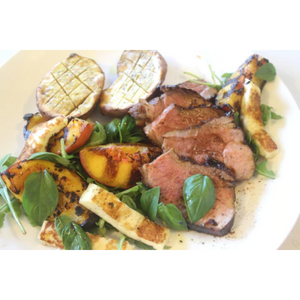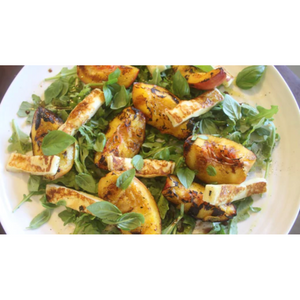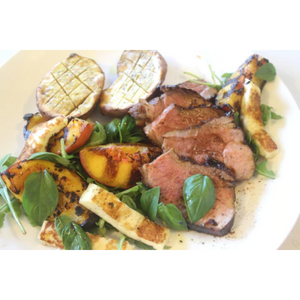 Peach, Halloumi and Smoked Balsamic Salad
This recipe from our friends at On Your Plate our stunningly good local provider meals and recipes.
| | | |
| --- | --- | --- |
| For 4 | For 6 | The Salad |
| 2 | 6 | Peach |
| 100g | 150g | Haloumi |
| 100g | 150g | Rocket |
| 20g | 30g | Basil |
| a drizzle | a glug | |
| a drizzle | a glug | |
| to taste | | Salt and Pepper |
The Peaches…

 

Use a small sharp knife to slice the peaches in half around the stone and give it a twist to remove one side. This doesn't always work, so you can make another slice around to pull the flesh off the stone into quarters. Heat up a large frying pan or a very clean bbq to a high heat. Arrange the fruit in a single layer and cook on each side until the sugars start to caramelise, but the peaches are still raw on the inside. Set aside to cool.
The salad…

 

Slice the haloumi into 1cm thick slices and fry on the BBQ, or a non-stick pan, for a minute on each side. On a platter lay out the salad leaves followed by the peaches, haloumi, and torn basil leaves. Season with pepper, manuka smoked balsamic drizzle and extra virgin olive oil.
A lovely variation is to add lamb and roast kumera to the salad...