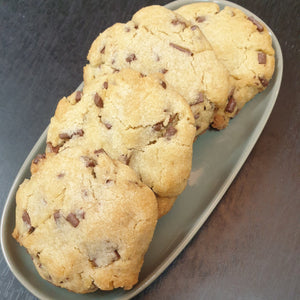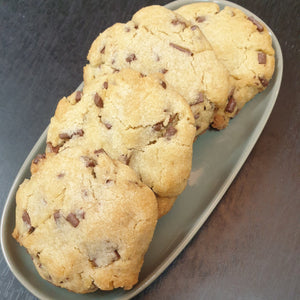 Olive oil Chocolate chip cookies
1 cup Telegraph Hill extra virgin olive oil
1 tablespoon pure vanilla extract
¾ cup white sugar
¾ cup brown sugar
1 teaspoon flaky sea salt
1 large egg
2 cups all-purpose flour
½ teaspoon baking soda
2 cups chocolate chips
Preheat the oven to 175 °c and line two baking sheets with baking paper.
Add the olive oil, vanilla, both sugars and salt, to a large mixing bowl. Mix until you have a smooth consistency. Now mix in the egg. Blend until it's completely smooth again.
Add the flour and baking soda to the bowl and mix together until just combined
Fold in the chocolate chips.
Mold the dough into balls about 2 tablespoons each ball. Because there is no butter in the recipe you will have to be reasonably forceful when pushing the balls together to stop the chocolate chips escaping
Add the balls to the baking sheet leaving enough room between them for them to spread when you bake them
Use a fork to push the dough balls down and flatten them slightly then lightly sprinkle each one with flaky salt.
Bake in the preheated oven for 10min or until golden on the edges.