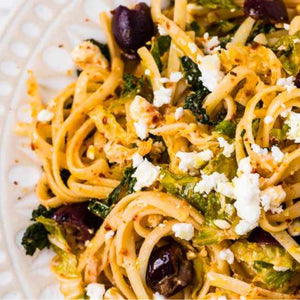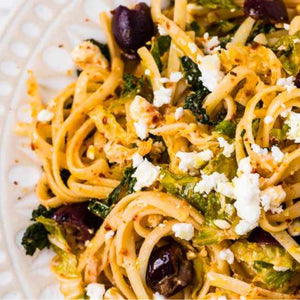 Linguine with Savoy Cabbage, Olives and Feta
Check out this super simple linguine recipe with olives and savoy cabbage. Packed with plenty of flavour this easy recipe makes a quick midweek meal
Ingredients
500g Linguine
2tsp Telegraph Hill Extra Virgin Olive Oil
1 Garlic bulb, cloves peeled and thinly sliced
1 Large head savoy cabbage, shredded, tough stalks discarded
150g pitted Telegraph Hill Kalamata Olives or mixed olives, roughly chopped
2-3 tbsp paprika
2 lemons, juice of 1 and zest of 2
400g Feta

1. Cook the linguine in a large pan of boiling salted water following pack instructions.

2. Meanwhile, heat the oil in a large frying pan over a medium heat and gently cook the garlic until translucent. Add the cabbage and fry for 5 minutes or until starting to soften.

3. Using tongs, lift the pasta from the water and add it to the frying pan with a few spoonfuls of the cooking water. Stir well, then add the olives and a little seasoning. Add the paprika and lemon juice and zest, and combine before crumbling in ¾ of the feta and tossing the pasta to evenly distribute the ingredients. Add a few more tbsp of pasta cooking water if it seems dry. Serve with a sprinkling of the remaining feta.