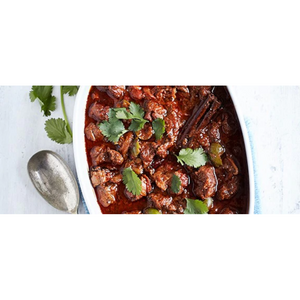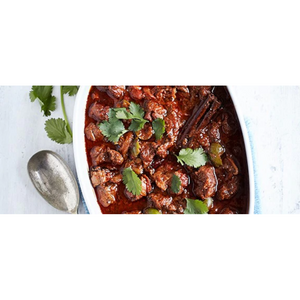 Spicy Lamb Tagine is a real crowd pleaser. It serves four so is great for feeding the family or a group of friends, or you can freeze it in smaller batches so that it'll do several nights
Ingredients
1 Pouch of Telegraph Hill Apricot Tagine
Extra Virgin olive oil
500g Lamb neck fillet, cut into chunks or diced lamb shoulder
350ml chicken stock
Couscous & Extra Virgin Olive Oil, and coriander to serve
Method
STEP 1 Mix the Telegraph Hill Apricot Tagine with 1 tbsp of Extra Virgin Olive Oil, season and toss with the lamb. Cover with Clingfilm and chill for at least 2 hours (or overnight).
STEP 2 Heat the oven to 160C/fan 140C/gas 3. Heat a splash of olive oil in a pan and cook the lamb and all of its marinade. Cook for about 5 minutes.
STEP 3 Add the stock.  Bring to a simmer then put on a lid and cook in the oven for 2 hours. Top up with stock if it gets too dry. A layer of foil between the lid and the pot can help retain moisture.
To freeze, cool completely and spoon into freezer-proof tubs or bags. Defrost before reheating thoroughly.
Serve with couscous and scatter with coriander leaves.