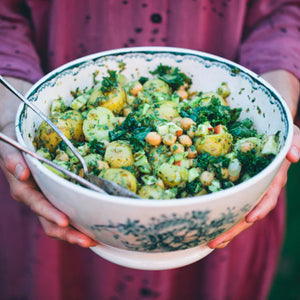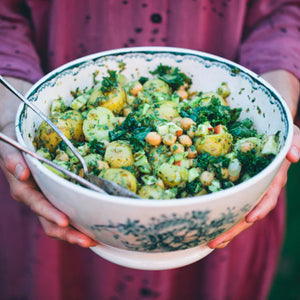 Herby Picnic Potato Salad with Beet, Kale, Apple & Chickpeas
Coarse Herb Vinaigrette
3 tbsp pickled capers
2 spring onions or green onions
2 cups loosely packed herbs (a mix of chives, parsley, basil and top greens from the celery)
2 tbsp Telegraph Hill Beetroot & Apple Cider Drizzle
1/3 cup Extra Virgin Olive Oil
sea salt and black pepper, to taste
500g potatoes
2 apples, diced
3 celery stalks (save the top greens for the vinaigrette), finely diced
2 leaves kale, chard or spinach, chopped
1 can (400 g) cooked chickpeas, rinsed
Put the potatoes in a large pot, cover them with water and bring the water to a boil. Boil for 12-15 minutes until they are cooked through but not falling apart – just until you can easily pierce a sharp knife through the center. Drain and set aside to cool.
In a food processor, blitz capers and their brine, onions, basil, parsley, chives, celery greens, vinegar, lemon juice, oil, salt and pepper until you get a coarse vinaigrette.
Quarter the potatoes and collect them in a larger mixing bowl. Pour the vinaigrette over the just-cooled potatoes and gently toss to coat. It will look like a lot of dressing, but the potatoes soak it up as they sit.
Stir celery, apples, kale and chickpeas into the potatoes. Taste for salt and pepper. Serve at room temperature.