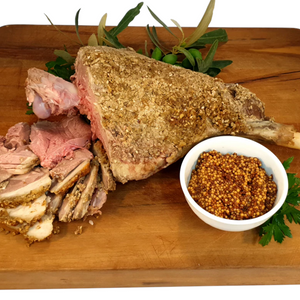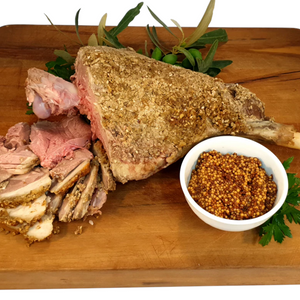 Hemp Seed Dukkah Crusted Lamb Leg
Zest of 2 lemons
2 Garlic cloves crushed, or tsp minced garlic
1tsp finely chopped rosemary
1 lamb leg (approximately 1.5 kg)
½ cup stock(chicken, vegetable or beef) or water
 Preheat your oven (or BBQ) to 180, 160 if you are using fan forced oven. Any hotter and the nuts will burn before the lamb is cooked
In a small bowl mix the Telegraph Hill hemp seed dukkah, Telegraph Hill extra virgin olive oil, lemon zest, garlic, and chopped rosemary into a rough paste.
Using a sharp knife make small incisions in the fat side of the lamb leg. Depending on how much fat is on the leg these cuts should go all the way through the fat and just into the meat.
Smear the dukkah paste over the lamb leg, working it into the incisions you have made and place into a roasting tray
Pour the stock into the bottom of the tray
Roast in the oven covered in tinfoil for 60min
Remove the tin foil and cook for a further 30min (or less or more depending on how cooked you like your lamb
Remove from the oven and rest covered in tinfoil for 15min to allow the juices to reabsorb into the lamb.
Carve and serve with your choice of sides.
A twist on the traditional leg of lamb. The spices in the dukkah combined with the creaminess of the nuts and the lamb is a winner- beats mint sauce any day of the week. 1.5kg lamb leg should be what you will typically find from your butcher or in the supermarket, if you're lucky enough to find a whole lamb leg like I remember from my childhood with the rump and shank attached then you will have to double the recipe to have enough mixture to coat the whole leg.