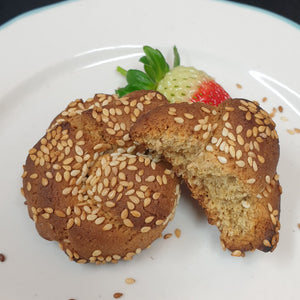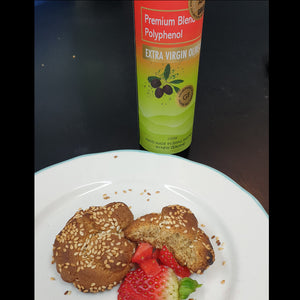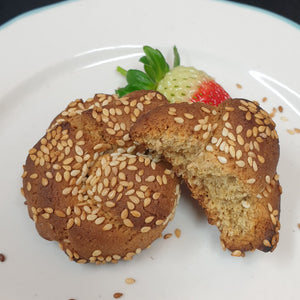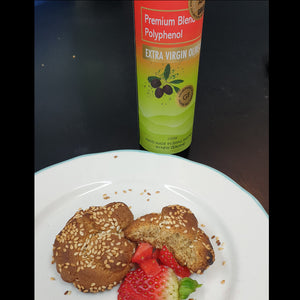 Greek Style Olive Oil Biscuits
140mls Telegraph Hill olive oil
165ml orange juice
zest of 1 orange 
150g sugar
500g self-raising flour
1 tsp ground cinnamon 
1/4 tsp ground clove 
1/4 tsp cardamom
1/3 tsp baking soda 
4 drops vanilla essence 
80g white sesame seeds for coating
In a large bowl combine the flour, salt, orange zest, cinnamon, cardamom and cloves.
In a separate bowl combine the orange juice and baking soda and whisk until the baking soda is dissolved.
Add the Telegraph Hill olive oil, vanilla extract and sugar and whisk until the sugar dissolves
Add all the dry ingredients in the bowl with the liquid ingredients. Stir until the ingredients begin to combine, then knead lightly with your hands until all combined.
Preheat the oven at 185 degrees
Divide the dough into 35g portions.
Roll the balls into "snakes" with the palm of your hand. 
Pinch the end together to form in "doughnuts" or "pretzels"
Pour the sesame seeds onto a plate or tray
Dredge the cookies in sesame seeds until covered on all sides.
Place the cookies on 2 baking trays lined with parchment paper.
Bake each tray for approx. 20-25 minutes until nicely coloured and cooked through.