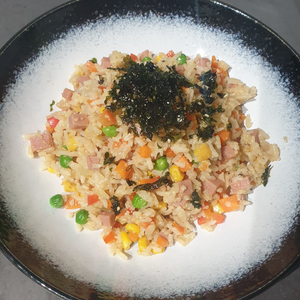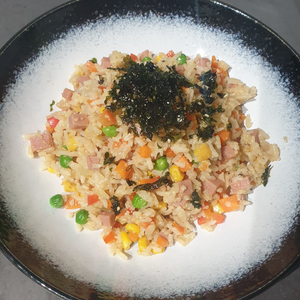 Often made with leftovers from the fridge, this recipe is an easy go to, made super tasty with the extra drizzle of Roast Garlic Oil.
Ingredients
Left over cold rice
1 Tbsp Telegraph Hill Roast Garlic Infused Extra Virgin Olive Oil 
1 small onion thinly diced
1/2 Capsicum Thinly Diced (Any colour to brighten your recipe)
1 medium carrot thinly diced
1/2 cup Frozen Peas
1/2 cup Frozen Corn
1-2 Eggs (Depending on how eggy you want your fried rice)
1/2 cup thinly diced cooked chicken
Flakey dried seaweed for the top
1-2 tbsp soya sauce depending on the flavour
1 tsp sesame oil
Salt and Pepper
Heat oil in a frying pan and add the meat and cook for 5 min or until lightly brown, add all the veges together and cook for 5 mins or until the veges are heated through.  Add the rice and break up and mix together with the veges. Once the rice has softened add the soya sauce and sesame oil and mix through.  Then crack the egg into the fried rice and mix through.  Once the egg is cooked your dish is done.  I have added flaky dried seaweed to this dish to give it that extra flavour.  Season and Drizzle extra Roast Garlic Oil over to taste.  
If you don't want to use fresh vegetables, you can substitute frozen mixed vegetables