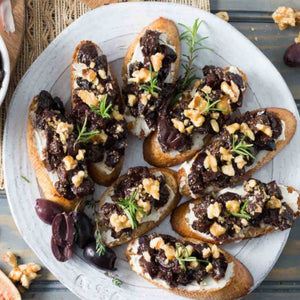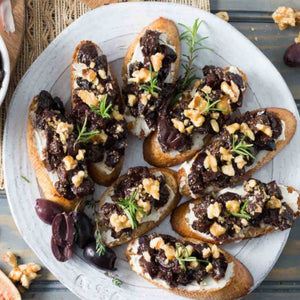 Next time you need to make an appetizer for a party, dinner party, or date night in, give this fig and olive tapenade a shot! It might just become your favourite too.

1 cup chopped dried figs
1/2 cup water
1 tbsp Extra Virgin olive oil
2 tbsp Telegraph Hill balsamic vinegar
1 tsp finely chopped fresh rosemary
1 tsp finely chopped fresh thyme
1/4 tsp cayenne pepper
2/3 cup pitted/chopped Telegraph Hill Kalamata olives
2 garlic cloves, minced
Salt and pepper to taste
Olive oil for brushing
2 loaves French bread
1/3 cup chopped walnuts
8 oz cream cheese or goat cheese

Instructions
Combine figs and water in a small saucepan. Heat over medium heat, stirring occasionally, until figs are soft and liquid is reduced, thick, and syrupy, about 15 minutes. Remove from heat.
In a medium bowl, combine fig mixture, olive oil, vinegar, rosemary, thyme, cayenne pepper, olives, and garlic. Mix well, and season with salt and pepper to taste. Refrigerate for at least 4 hours or overnight.
Preheat oven to 375 degrees. Set cheese out to soften. Slice bread diagonally into half-inch slices. Arrange on a rimmed baking pan, brush with olive oil, and sprinkle with kosher salt. Bake bread for 8-12 minutes or until toasty.

To assemble crostini: Spread bread with cheese, top with tapenade, and sprinkle with chopped walnuts. Garnish with fresh rosemary.
To serve cheese-ball style: Shape cheese into a round. Top with tapenade and sprinkle with chopped walnuts. Garnish with fresh rosemary. Serve bread on the side so people can assemble their own.
Note
You can also serve this cheese-ball style with crackers on the side instead of bread for an even easier appetizer.
For a finer texture, pulse the finished tapenade in a food processor until it reaches your desired consistency.