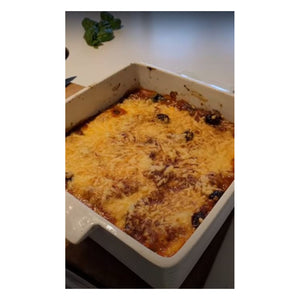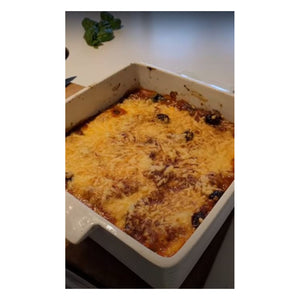 6 Tablespoons Telegraph Hill Extra virgin olive oil
2 x 300g packets Telegraph Hill Puttanesca Sauce
4 medium size aubergines (eggplants), cut into long, 5mm thick slices
100g grated hard cheese (parmesan, pecorino)
20g Fresh basil
1 egg, beaten
 Brush the eggplant slices with the olive oil on both sides.
In a hot frying pan cook the eggplant for 3min per side in batches.
Drain on a paper towel.
Heat both packets of the puttanesca in a medium sauce pan
Place a few of the slices of eggplant in the bottom of an oven proof dish, cover with some of the sauce, some basil and some of the cheese.
Finish the top layer with a layer of eggplant, pour the beaten egg over top and cover with cheese.
Bake in the oven at 180 for 20-30 minute until the topping is crispy and golden brown.
A perfect side dish for those that love lasagne. It's like lasagne but it's got vegetables in it (so it must be good for you right?) and it goes great with lamb or BBQ- the best of both worlds.