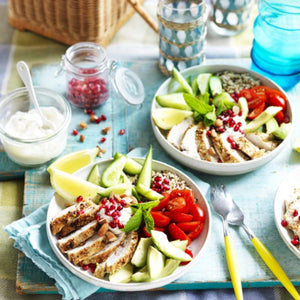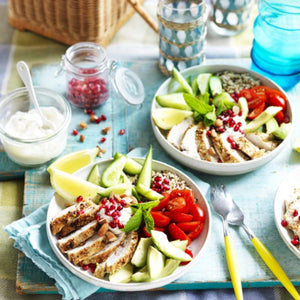 A satisfying option with maximum sustenance.
Ingredients:
Dukkah Chicken Bowl
4 medium free range chicken breast fillets, trimmed
1/4 cup extra virgin olive oil medium intensity
1/4 cup Telegraph Hill Olive Dukkah
2 cups brown rice & quinoa
1 medium avocado
1 tablespoon lemon juice
2 Lebanese cucumbers, roughly chopped
250g mini roma tomatoes, halved lengthways
1/3 cup roasted almonds, roughly chopped
Mint leaves, pomegranate seeds and lemon wedges, to serve
Dukkah Yoghurt Dressing
1/2 cup Greek-style natural yoghurt
1 tablespoon Telegraph Hill Dukkah Butter
2 tablespoons lemon juice
Method:
Dukkah Chicken Bowl
Brush chicken on both sides with 2 tablespoons oil and press dukkah onto the chicken.
Heat remaining 1 tablespoon oil in a non-stick frying pan over medium heat. Add chicken and cook, for 5-6 minutes on each side until cooked through. Transfer to a board to cool.
Cook the rice and quinoa following packet instructions. Set aside to cool.
Peel and slice avocado lengthways and drizzle with lemon juice. Set aside.
Make Dukkah yoghurt dressing.
Slice cooled chicken into 1cm-thick strips. Dividing ingredients, arrange the chicken, rice & quinoa, cucumbers, tomatoes, avocado and almonds in shallow serving bowls. Scatter with mint and pomegranate seeds. Serve with Dukkah yoghurt and lemon wedges.
Dukkah Yoghurt Dressing
Combine all ingredients in a bowl. Season with salt and pepper. Mix until smooth.
recipe adapted from https://myfoodbook.com.au