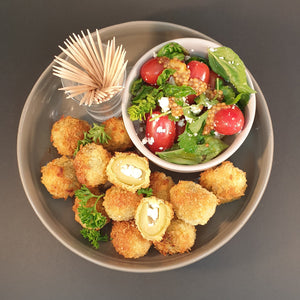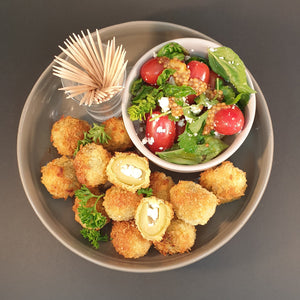 Deep Fried Stuffed Olives
ngredients: 
 Chop or rip your cheese of choice into small pieces that will fit inside the olives
Drain the Telegraph Hill Red Pepper & Herb Green Pitted Olives and stuff with the cheese
Tip the bread crumbs into a shallow dish.
Toss the olive gently in flour, then in the beaten egg and then the bread crumbs.
If the coating looks a little thin you may need to do the egg then bread crumb step again. If in doubt redo them, you don't want the cheese escaping when you are frying them.
Heat the oil in a large pan to 180C, then fry the olives for 1-2 minutes, or until golden.
Drain on kitchen paper and resist the temptation to eat them straight away as they'll be very hot inside. Safety first, leave them to coo, for a couple of minutes first
I always get scowled at by my wife when I "sample" things while I'm cooking them at home, a habit formed through 20 years working in restaurants where nothing should be served unless it's been tasted first. Although these days it's more of an excuse to get in and eat the good things before anyone else and these cheese stuffed goodies certainly require "sampling" before leaving the kitchen (that's also how I know you need to let them cool first or you may regret it). Gavin.