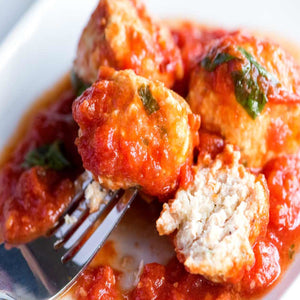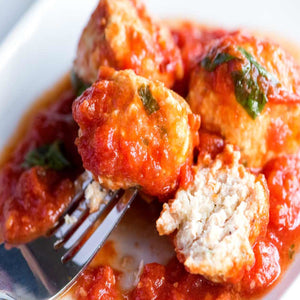 Chicken Meatballs with Puttanesca Sauce
500g Chicken Mince
1x Onion (Thinly diced)
1x Egg
30g Sage & Onion Breadcrumbs 
2 Courgettes (diced)
200g Mushrooms (diced)
1x 400g tin of Plain Tomatoes
1x Pouch of Telegraph Hill Puttanesca Sauce
EVOO for frying 
Add together Chicken, onion, egg and Sage & Onion bread crumbs, mix until well combined.  This should make around 20 -25 meatballs.
Heat your frying pan and add the olive oil.  Start making your meat balls (this is a wet mixture) and add to the frying pan as you go, turning them around and remove from the pan once they are slightly seared.  Once you have cooked all the meat balls, add the mushrooms & courgette to your frying pan and cook until lightly cooked though.
Add the meatballs back to the frying pan and add the combined tinned tomatoes and Puttanesca sauce.  Simmer for about 30 mins, or until the meatballs are cooked through.  Season to taste.
Serve with rice or pasta and seasonal vegetables.