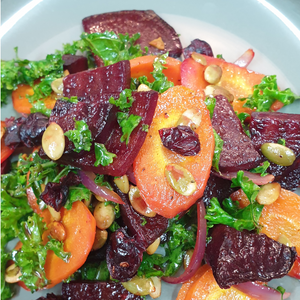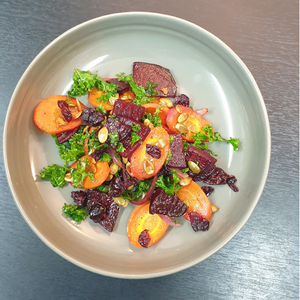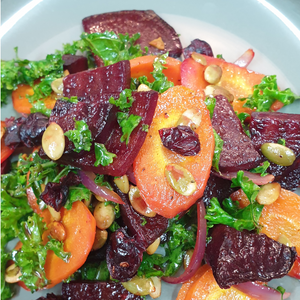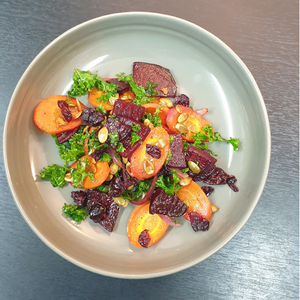 Carrot, Beet and Kale Salad with Telegraph Hill Beetroot and Apple Cider Vinaigrette
Ingredients
2 medium beets trimmed, peeled, quartered and sliced 6mm thick
2 large carrots sliced 6mm thick
3 tablespoons Telegraph Hill extra virgin olive oil divided
1/2 teaspoon salt
1/2 teaspoon freshly ground black pepper
4 medium shallots peeled and sliced lengthwise
1/4 cup unsalted pumpkin seeds, toasted
4 cups chopped kale stems removed and cut into smaller pieces
75g Dried Cranberries
Telegraph Hill Beetroot and Apple Cider Vinaigrette
Optional Add Ins:
Instructions
Preheat the oven to 220 degrees C. In a large bowl, combine beets, carrots, 2 tablespoons of the Telegraph Hill extra virgin olive oil and salt and pepper. Add carrots and beets to a baking sheet and roast in oven for 15 minutes.
Remove from oven and toss the shallots and pumpkin seeds with the beets and carrots on the baking sheet. Roast for an additional 10-15 minutes or until the vegetables are just tender.
 Meanwhile, place the chopped kale in the same bowl where the beets and carrots were. Add remaining tablespoon of olive oil and massage into kale leaves with your hands until the leaves are bright green and tender, about 2-5 minutes.
 Remove vegetables from the oven and allow them to cool for 5 minutes. Add vegetable mixture to the bowl with the kale. Drizzle with Telegraph Hill Beetroot and Apple Cider Vinaigrette and toss to coat. Add the dried cranberries.
 Allow salad to sit for at least 30 minutes to allow the flavours to combine. Serve cold or at room temperature.