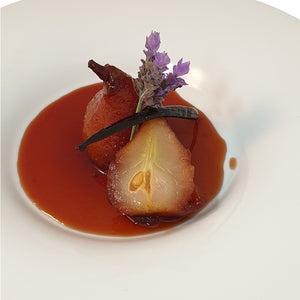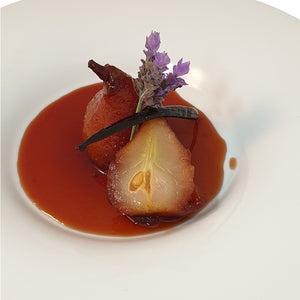 Ingredients
6 pears, Not over ripe
2 cups Telegraph Hill

 

Cabernet Drizzle
2 cup Water
2x Vanilla pod (or Vanilla extract or paste)
3x Star Anise pieces whole
  Peel the pears. You can remove the cores with an apple corer which will reduce the cooking time slightly or leave the cores in to remove later or leave the pears whole
Place the pears into a medium sized saucepan and cover with the liquids and spices.
Bring to a gentle simmer and cook for approximately 1 hour, depending on ripeness of the pears.
If the pears float in the liquid weigh them down with a lid from a pot smaller than the one you are cooking in.
You can keep the pears in the syrup for a couple of weeks or reuse the liquid to poach your next batch of pears. Serve with ice cream, whipped cream, mascarpone and of course extra Telegraph Hill Cabernet drizzle.