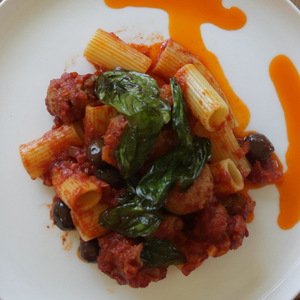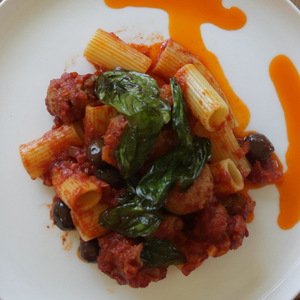 Broken Pork and Fennel Sausage Pasta
Broken Pork and Fennel Sausage Pasta
Ingredients
1 cup Telegraph Hill Extra Virgin Olive Oil (use less if you prefer, we like it rich)
1 tbsp. paprika
Small handful of basil
500gm pork & fennel sausage (from your butcher is best)
2 onions (diced)
1 clove garlic (sliced)
1 cup tomato paste
Rigatoni pasta
Method
Pour olive oil into pan and heat.
Add basil, ensuring leaves are fully submerged and fry till it lightens in colour and crisps. Remove basil and set aside.
Squeeze sausage meat from casing to form bite size lumps and add to pan and fry till cooked. Remove sausage and set aside.
Add garlic to olive oil until it begins to brown then add diced onions.
Fry till onions soften then add tomato paste and paprika.
Boil rigatoni pasta till cooked and drain.
Add sausage and pasta to sauce before serving and then top with basil.