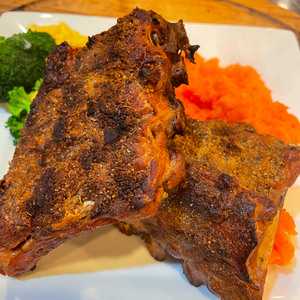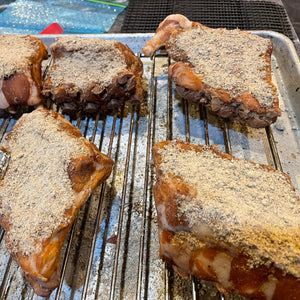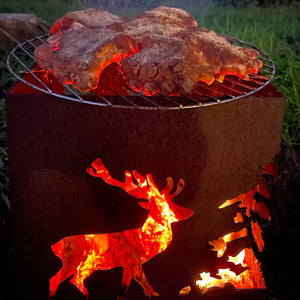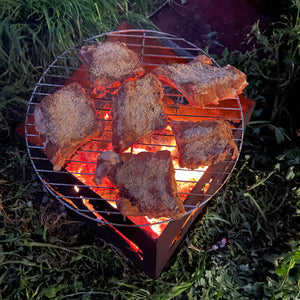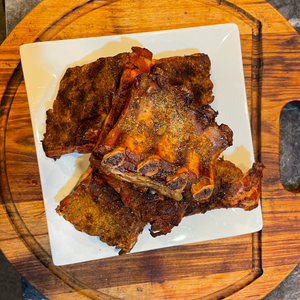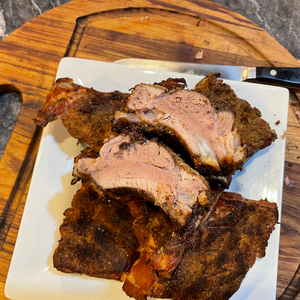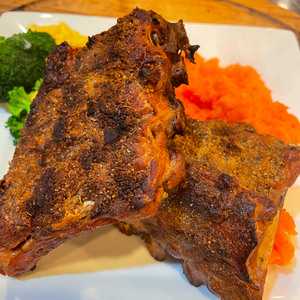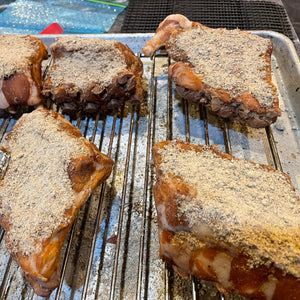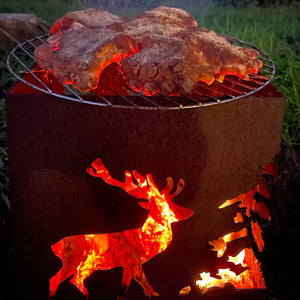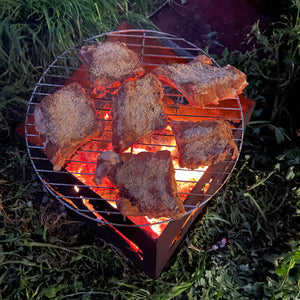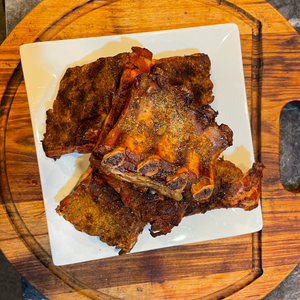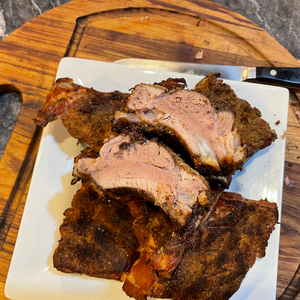 2 Racks of Pork ribs (trimmed and cut into equal size pieces 2-3 ribs wide)
1L of apple juice or 500ml Apple cider.
Olive Rub (recipe here)

  Place the ribs into a large pot and cover with the apple juice/ cider.
Add enough cold water to ensure the ribs are covered and bring to the boil.
Reduce to simmering and cook until the meat is very tender (about an hour to 90minutes depending on the size of your ribs)
Remove from the liquid and allow to dry and cool on a wire rack
 You can do this the morning before your BBQ or a day ahead
 Rub the Olive rub onto the BBQ rub on to the ribs. You don't need anything to hold the rub on but depending on your preference and which one of the seemingly 100 different styles of BBQing you subscribe to you can brush the ribs with a light coating of oil or mustard first.
The BBQ rub needs time to impart the flavour into the ribs. Allow an hour. If you leave the rub on for longer you will start to cure the ribs (think ham as opposed to roast pork) which isn't necessarily a bad thing, its personal preference.
BBQ, grill, bake or smoke the ribs until warmed through. You can leave them dry or smoother them in your favourite sauce
I'm not going to lie: I don't like BBQ ribs.
Sure they taste great but they are messy, a lot of effort to eat for little amounts of gain (in terms of the amount of meat you end up eating) and I prefer braising the meat off the rib bone and using that (all, of the lovely flavour from the ribs with no mess and easy to eat).
The problem I have is that my wife loves BBQ ribs, so I inevitably have to cook them every now and then. This recipe takes a lot of the guess work and time out of cooking them completely on the BBQ and can be done in advance.
Recipe by our very own Gavin Versey