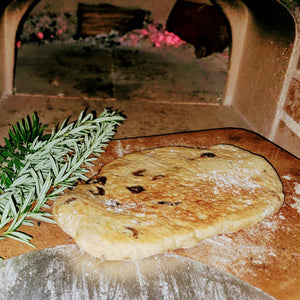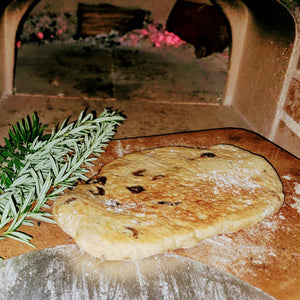 BBQ Orange and Fennel Flat Breads
Ingredients: 
1 Tablespoon honey
1 ½ cups luke warm water
4 Cups all-purpose flour; more as needed
2 teaspoons. active dry yeast
1 ½ teaspoons Salt
2 Tablespoons Telegraph Hill

 

Extra Virgin Olive Oil

 

more for the bowl and for brushing
½ Cup Pitted, Roughly Chopped, Telegraph Hill

 

Burnt Orange and Fennel Olives

 

plus the oil from the packet.
2 teaspoons flaky sea salt
 Dissolve the honey in 1-1/2 cups lukewarm water. The water should neither feel hot or cold when you put your finger in it.
Using a mixer fitted with the dough hook, or in a large bowl by hand mix the flour, yeast, and salt for 2 minutes.
With the mixer running, gradually add the honey water and the 2 Tablespoons of olive oil.
Mix until the dough is smooth and easily comes away from the sides of the bowl
Let the dough rest in the mixer bowl for 5 minutes and then turn the mixer to medium-high speed and mix for 3 minutes more
Lightly oil a large bowl. Transfer the dough to the bowl and turn the dough to coat it with the oil. Cover with a damp tea towel and let the dough rise in a warm place until doubled in size, 1 to 1-1/2 hours.
With lightly floured hands, gently knock back the dough.
Add the chopped olives, fennel seeds/orange and oil from the packet of olives.
Gently fold the olive/oil mixture through the dough, working only as much as required.
Divide the dough in 6 equal pieces and roll each into a ball
Place on an oiled and floured baking sheet, brush the tops with olive oil and cover with a damp tea towel.
Leave in a warm place until doubled in size
Heat your BBQ to 230. Ideally you want the burners going on one side and not on the other.
On a floured bench roll the flat breads out until they are about 20cm across
Brush each flat bread with oil on both sides and cook for 3 minutes each side, the first 3minutes over the direct heat and the second 3 minutes on the cooler side of the BBQ with the lid closed. You can cook completely over the direct heat but it will only take 2 minutes a side.
 You can store these in the fridge once they are rolled out between sheets of baking paper. You can even make the dough in the bread maker. Great to do ahead of time and then pull out and cook on the BBQ- sure to impress.