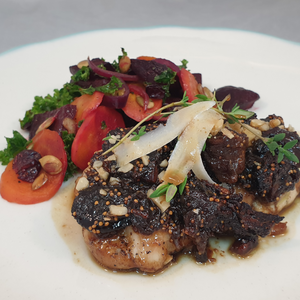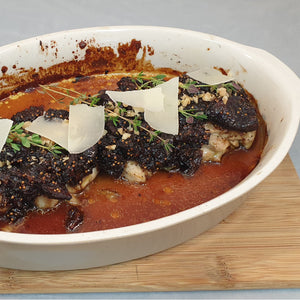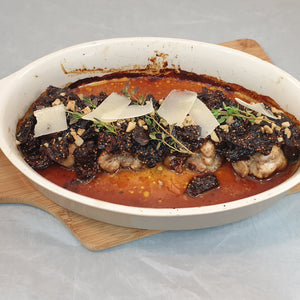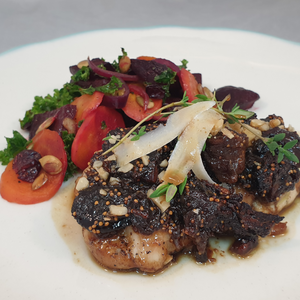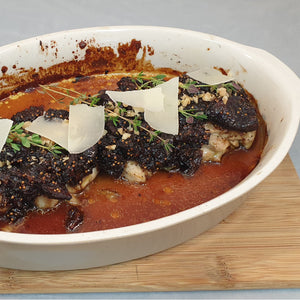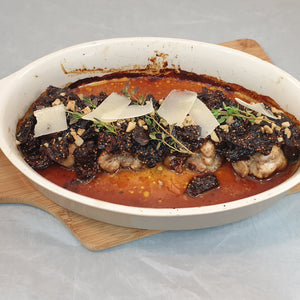 Balsamic Fig Glazed Chicken
Ingredients
6 Boneless Skinless Chicken Thighs
Salt & Pepper - to taste
1 tbsp Telegraph Hill extra virgin olive oil
1 medium Shallot – finely diced (about 3 heaping tbsp)
2 cloves Garlic – minced
2 x 300g pouch of Telegraph Hill Marinated Figs, Figs roughly chopped, keep marinade
1 cup water
5 Sprigs Thyme -DIVIDED, plus more for garnish
½ Cup Walnuts – chopped for garnish
½ Cup Gorgonzola – crumbled, you can use parmesan as substitute
Instructions
Preheat oven to 220 degrees C.  Grease an 8x8'' baking dish with extra virgin olive oil and set aside.
Prepare Glaze: 
Heat oil in a small saucepan over medium heat. Add shallots and season with 1/4 teaspoon salt. Sauté until soft and translucent, about 3-4 minutes. Add in garlic and sauté 30 seconds- 1 minute. Add in chopped Figs and marinade and 1 sprig of thyme. Add 1 cup water.  Increase heat to bring mixture to a boil and immediately reduce heat to maintain a simmer. Simmer, stirring occasionally, until thickened and reduced by about half, about 10-12 minutes. Use tongs to remove thyme sprig and discard.
Optional: Use an stick blender (or transfer glaze to a stand blender) and puree until smooth if glaze is preferred.
Place chicken on a clean work surface and pat the chicken dry. Season both sides of the chicken generously with salt and pepper. Transfer chicken to the prepared baking dish. You want a snug fit. Spoon the reduced glaze over the chicken, using the back of a spoon to evenly coat with glaze. Add 4 remaining sprigs of thyme to the pan.
Transfer the baking dish to the oven. Bake (basting the chicken with the glaze once during cooking), for 35-40 minutes or until the juices run clear and chicken is cooked through (internal temperature of 75 degrees C. Remove from oven and let chicken rest 5 minutes. 
Optional: Switch oven to broil during last 3-4 minutes of baking for a more golden brown chicken. Watch the chicken carefully as it can burn easily!
Garnish chicken with fresh thyme, walnuts and cheese if using. Enjoy.