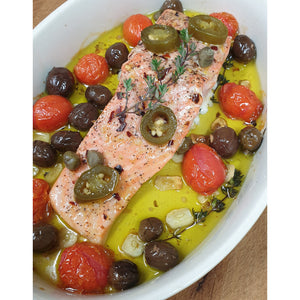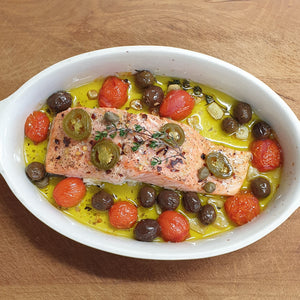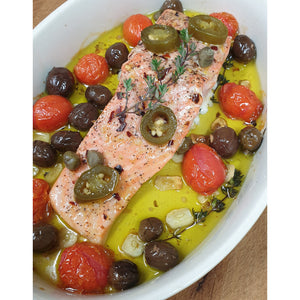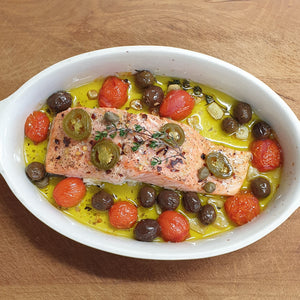 Mediterranean Baked Salmon
Ingredients
1/3

cup

 Telegraph Hill

olive oil

4

garlic cloves

 

sliced

6

sprigs fresh thyme

1 1/2

cup

 

cherry tomatoes

 

whole

4

Pieces

 fresh Salmon, can also be made with any white fish

1/4

teaspoon

 

salt and pepper

1/2

teaspoon

 

chilli flakes

 

optional

1 cup Telegraph Hill Olives 

any variety you choose or just one flavour

1/4

cup

 

sliced jalapeños

2

teaspoons

capers

 

drained
Instructions
Preheat the oven to 230 degrees C.
Place the baking dish with the olive oil in the oven to preheat for 6-8 minutes.
In the meantime, season your fish with salt, pepper and chilli flakes.
Once the pan is preheated, immediately add in the garlic slices, half of the thyme sprigs, the tomatoes, fish fillets, and Telegraph Hill olives.
They will sizzle slightly and the flavours will begin to infuse.
Continue by topping the fish with sliced jalapeños and capers.
Drop the oven to 190 degrees and bake the fish for 20-25 minutes depending on the size of your fillets.
If you want a charred look to your fish, switch to grill after 20 minutes of baking and grill for 2 minutes.
Once the fish is ready, take the flavourful olive oil around the fish and drizzle it over the fish.
Garnish with the remaining fresh thyme sprigs and enjoy.
Great served with crusty bread, rice, pasta, or salad.
Note. If substituting salmon for white fish, cook for 15-18 minutes.