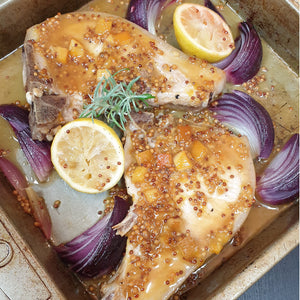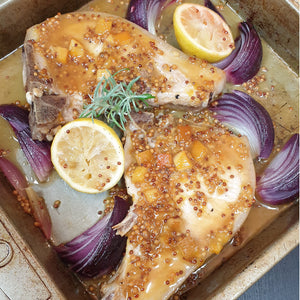 ½ cup fresh orange juice
2 tablespoons Condimentum Hill Marmalustard
1 tablespoon Telegraph Hill EVO
4 pork loin chops (600g)
¼ teaspoon salt
¼ teaspoon black pepper
2 rosemary sprigs
1 medium red onion, cut into wedges
2 limes juiced and kept
Combine juice and Marmalustard in a small pot and reduce until syrupy
Heat a large ovenproof dish over medium-high heat.
Add oil and add seasoned pork chops with salt and pepper
Cook for 5 minutes each side or until browned.
Add rosemary, onion and juiced limes to pan.
Pour the orange mixture over pork; bake at 220° for 10 minutes or until chops are cooked. Remove the onion and rosemary and keep. Remove the limes and save for garnish later.
Return pan to medium-high heat and add lime juice.
Cook 4 minutes or until liquid is syrupy.
Drizzle over the pork and onions and serve