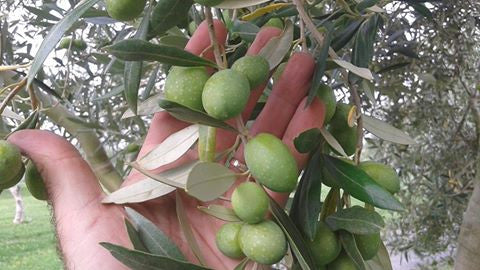 The olive harvest at Telegraph Hill is almost underway and this year it is running to schedule - bang on time with a medium sized olive crop. 
The first variety of olives harvested are an Italian variety called Ouvo D'Piccione, known for their large green fruit. These are ready to be harvested now at two of our groves.
Manzanillo Olives are next - this is the main crop which is harvested from 8 groves dotted around Hawkes Bay. 
Kalamata Olives are the final variety harvested around mid May - see these trees next time you visit The Olivery.
Here are some tips on harvesting your own crop!
- Sun ripened olives should have some variation in their colour. This is called quid pro quo and allows for not only colour variation but better flavours that only tree-ripened olives can produce.
- Once harvested make sure you use Olives swiftly - once picked the quality and flavour can deteriorate quickly. 
- To cure your own olives follow this method
- If you are interested in having your crop pressed into Olive Oil contact these Hawkes Bay based businesses
Olivewood Farm Partnership - Julie and Zane / 0272784947 / 06 8367923
Ken Mark / 06 8749455
Happy harvesting!
Related Blogs