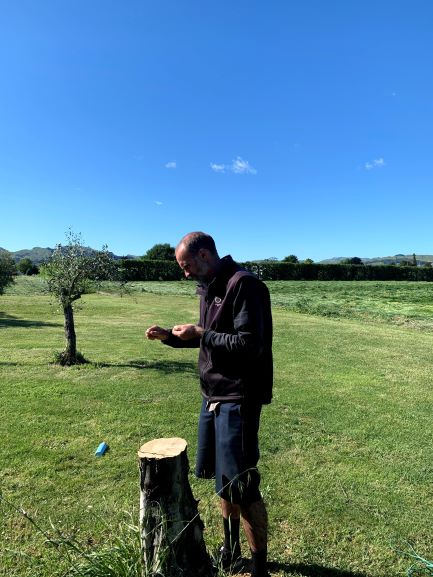 On the 15th November 2019 we grafted some big green olives onto existing (small green olive) trees.  Now to wait 3-4 years for some fruit to arrive.
Olive grafts are notoriously difficult, so we noted who did which grafts and named them.  We now have several years worth of jesting ahead of us...slightly competitive...so with writers control I'll tell the story...
Whose grafts will take best....... 
As these photos show, there is some experimentation trials underway with these grafts.  It is important to seal the new grafts so they retain moisture.  We've done this with fruit paint, 
and we are trialing a plastic 'greenhouse' over the stump too.  This tree was grafted by Garry so has been named... 'Garry's Graft idea'...
Also one stump has some existing tree left on it to facilitate the sap flow.  Geoff's Graft.
This is the classic total cut and replace strategy.  Named this one 'Geoff's flat top graft'
In addition to this and a slightly complicating factor is the weather.  We've had regular temperatures of 28-30 degrees C in the 15 days since we did the grafts.  Garry's 'greenhouse' may have cooked the grafts, we estimate it may have got up to 50 degrees in there, which is not good for the bonding process.
Time will tell.
If you are visiting the Olivery in the next few years, you are welcome to wander the grove and inspect these yourself.
Related Blogs